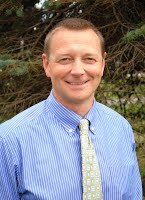 Dr. Andrew R. Dolloff, Superintendent of Schools
Laurie Brigham, Administrative Assistant to the Superintendent
101 McCartney Street, Yarmouth, ME 04096
207-846-5586
Fax: 207-846-2339
Open 7:30 AM - 4:00 PM, Monday - Friday
Superintendent of Schools
Leadership Profile: Dr. Andrew R. Dolloff, Superintendent of Schools
Andrew Dolloff was named Superintendent of Schools in Yarmouth on July 1, 2014, after completing five years in the same position in Maine RSU 21 in Kennebunk. Andrew is a 35-year veteran of Maine public schools, having begun his career as a chemistry teacher and basketball coach in central Maine before moving into school administration in Greater Portland in 1996. Over the past 19 years he has served as a superintendent, assistant superintendent, high school principal, high school assistant principal, and athletic administrator.
Andrew was named Maine's Superintendent of the Year in 2021, while the New England League of Middle Schools recognized him with its Superintendent Award in 2020. In 2004, Andrew was named Maine's Outstanding High School Principal, and in 2005 he was named to the International Advisory Board for the Harvard Graduate School of Education's Principals' Center. In recent years, Andrew has served on the Executive Committee of the Maine School Superintendents' Association (MSSA), and on the Campaign Cabinet of the United Way of Greater Portland. Currently, Andrew is on the advisory board for the University of Southern Maine's Educational Leadership program and is a member of the District Administration Leadership Institute. Since 2015-16 he has served on the MSSA Legislative Committee, the School Construction Committee, and the School Nutrition Committee.
Andrew completed his bachelor's degree at the University of Maine at Farmington, his Master's degree at the University of Southern Maine, and advanced studies at both the University of Southern Maine and the University of New England. In March of 2015 Dr. Dolloff completed his Ph.D. in Public Policy with a concentration in Educational Policy and Leadership at the Edmund S. Muskie School of Public Service at the University of Southern Maine, where his dissertation focused on resource allocation in Maine's more efficient public high schools, one of which is Yarmouth High School.
Superintendent Goals
As part of the annual Superintendent Evaluation process, the Yarmouth School Committee expects that the superintendent will identify several goals in various areas of responsibility pertinent to district leadership. Although those annual goals will be specific to tasks identified in our strategic plan (seen elsewhere on this page), there are several overarching areas of responsibility that deserve the superintendent's attention each year. Dr. Dolloff addresses those areas in the following post:
Leadership
In his book The Daily Disciplines of Leadership, Douglas Reeves defines leaders as "the architects of improved individual and organizational performance." The implications of this analogy are that the successful leader designs, but does not alone do the work of building; the leader is dissatisfied with the status quo – though not necessarily discontent (an accurate description of our current state); and that leadership is inclusive of individual and organizational performance. Through my work in Yarmouth, I strive to effectively challenge administrators, teachers, and other staff members to improve individual and organizational performance on a daily basis.
Culture
Pedro Noguera is one of my favorite researchers. Pedro is currently at UCLA, but I had the good fortune to experience his teaching for a short time at Harvard's Principals' Center, where he said to us, "You must change the culture of the school, not the organization (of the school), as it is the most important feature of high-performing schools." I believe this to be a critical component of the role leaders play in public schools. Without the appropriate culture, no amount of curriculum review, standards revision, or changes in the teacher evaluation process will impact student learning in a positive way.
Richard Elmore, another Harvard researcher, has found that, "The process of improvement is fundamentally about changing the culture of schooling, and cultures change through face-to-face relationships." From my first day in the district, I have attempted to center my work around this belief. In my efforts to provide Yarmouth's youth with the best possible education, I will work to create a culture that is safe (in every sense of the word), respectful, optimistic, rigorous, and focused on improvement. As part of this work, I will focus on communication between schools and parents, relationships between and among professional staff and our community, and consistent modeling of the ethical behavior expected of a highly visible public official.
Teaching and Learning
Several years ago, the Center for Education Policy, Applied Research, and Evaluation (CEPARE) conducted a study of Maine's high schools, making use of several measures to identify schools that are "higher performing". Yarmouth High School is one of these schools. Upon further study, CEPARE identified common characteristics of these higher performing schools, the most significant being that they focus on intellectual work in two ways:
i. Students engage in intellectual work that involves academic knowledge and skills as well as social and behavioral learning.
ii. Adults engage in intellectual work to create instructional practices, curricula, professional learning programs, and leadership roles that improve student performance and are informed by assessment and experience.
Without exception, my work will be directed toward maintaining – and improving – the academic focus of our schools, by providing updated, coordinated, cyclically-reviewed, relevant and rigorous curriculum, and ensuring that we properly supervise and evaluate teachers and administrators with clearly stated goals and expectations, providing feedback and professional development opportunities that further our mission.
Operations
Too often, school leaders neglect the operations side of the house. I have found learning about the financial, human resources, and facilities aspects of public schools has opened up a whole new realm of challenges for me. Because these topics are foreign to many educators and members of the public, it is vital that we understand, and communicate well, the intricacies of collective bargaining agreements, school funding mechanisms, and building operations. I will hold myself to the highest standards in this area, working diligently to plan and manage our finances and properties well, and to provide the School Committee and the community with the information necessary to make informed decisions about the allocation of resources.