COVID-19 Information and Updates

This page has been created to provide community members with a single place to find the most up-to-date information on the Yarmouth Schools response to COVID-19. We will do our best to keep this page updated with news, notes, and planning information to keep you apprised of our progress in providing engaging, meaningful instruction while keeping our community safe.
PLEASE SCROLL TO THE BOTTOM OF THIS PAGE FOR COMMUNITY NOTICES REGARDING CASES AND OUTBREAKS.
This table provides a snapshot of COVID-19 data at each school (2021-2022 school year, only).
UPDATED 9/24/2021
| | | | | | |
| --- | --- | --- | --- | --- | --- |
| | | Yarmouth Elementary School | Frank H. Harrison Middle School | | |
| Active Positive or Probable Cases | | | | | |
| | | | | | |
| | | | | | |
| Individuals in Quarantine for Close Contact today | | | | | |
| Total in Quarantine or Isolation today | | | | | |
| Cumulative Quarantines and Isolations | | | | | |
Note: We may have more students and staff in quarantine each day while they await results of testing for COVID-like symptoms (most have been negative) or because of travel. We are only reporting here those that have been quarantined by the CDC because of a confirmed or probable case, or close contact with a confirmed or probable case.
Pre-Screening Tool for School Attendance
The following tool should be used to assist in determining if a student should attend school. Families are encouraged to use this tool each day during the 2021-2022 school year.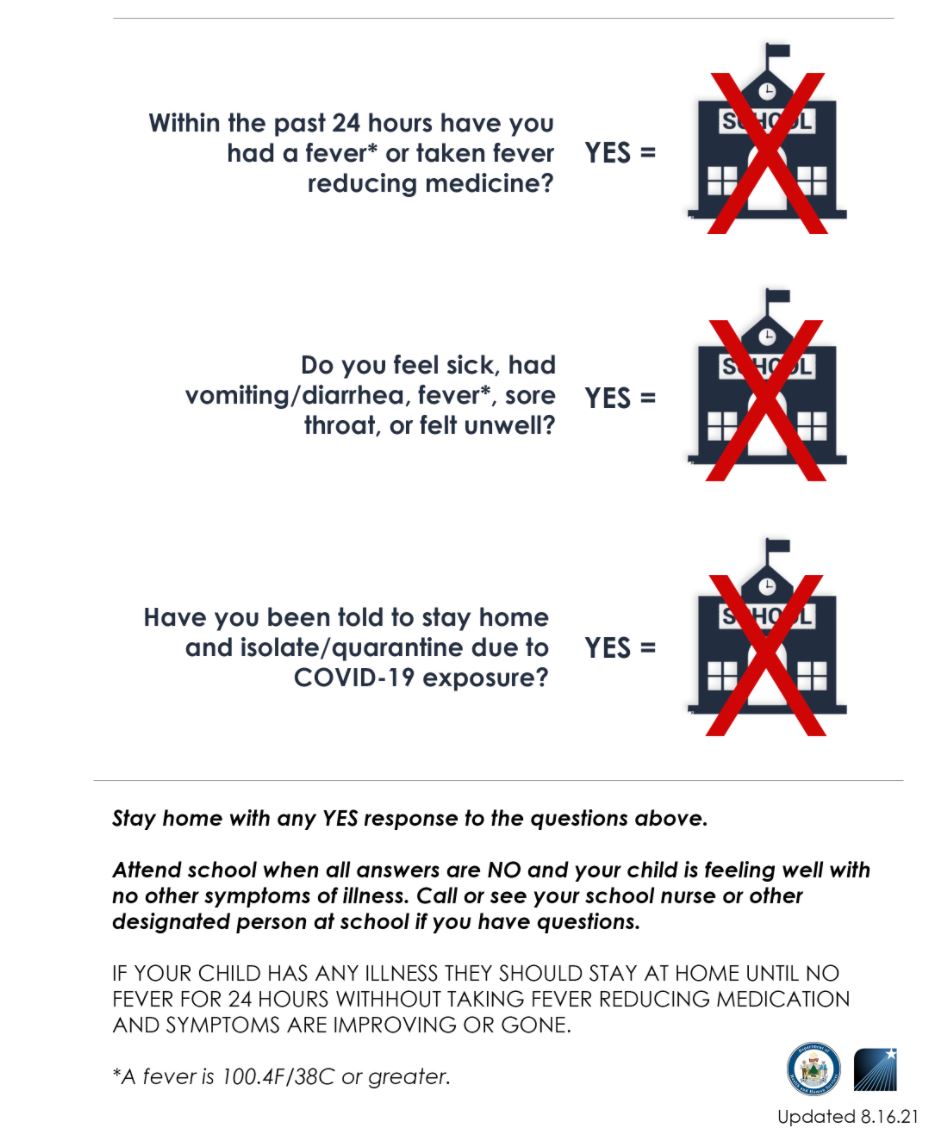 Instructional Plans to Support Students Required to Quarantine
Teaching and learning will continue during the 2021-22 school year for students required to quarantine. Programming may differ slightly between buildings, but instruction and learning opportunities will be asynchronous for all schools. Students will have access to all necessary materials and technology. Student services will be provided to a student during a quarantine period to the extent possible.
Rowe School & Yarmouth Elementary School
Rowe and YES will support students who are quarantined by assigning asynchronous work on ipads and/or paper based assignments. All assignments and/or student ipads will be provided for pickup as soon as practicable after notification of a necessary quarantine. Families may request delivery of a device if the family is unable to pick it up from the school. For students requiring a prolonged quarantine of more than 3 days, students can expect to connect with an educator virtually during that time period.
Harrison Middle School & Yarmouth High School
Students may access their teachers' Google Classroom pages, teacher pages, landing docs, etc. for current work. Students are encouraged to email teachers with clarifying questions regarding assignments. For 5th and 6th graders who do not take laptops home, they will be made available to be picked up (YSD will provide home delivery of the laptop if needed).
Meal Access During Quarantine:
Families interested in school breakfast and lunch meals during quarantine should contact Blair Currier, Director of Nutrition, at blair_currier@yarmouthschools.org.
Reopening Plan - Fall 2021
On August 16, 2021, the Yarmouth School Committee unanimously approved the reopening proposal developed by the District Leadership Team and Medical Advisory Panel. In this plan, we will implement a layered system of strategies to maximize learning for students and reduce time lost for illnesses, quarantines, or school closures, including:
1. Continue to maximize physical distancing (3' between individuals) whenever possible, so long as it does not limit our ability to provide in-person learning to all students each school day.
2. Continue to focus on personal hygiene (frequent hand-washing, minimal sharing of supplies, proper sneeze and cough etiquette).
3. Maintain the expectation of daily self-checks for symptoms or possible exposure to positive cases by staff members and families of students.
4. Ongoing use of improved air filtration systems to remove particles and contaminants from indoor air.
5. Continue contact tracing and quarantining as directed by the CDC for individuals who are close contacts of positive cases.
6. Implement pooled COVID-19 testing on an optional basis of students and staff – to be conducted weekly at each grade level, with follow-up testing of individuals and quarantining as necessary in the event of positive cases. (NOTE: MDOE has stated that students and staff who participate in pool testing will not need to quarantine if they are a close contact of a positive case.)
7. Continue to promote vaccines for students in approved age groups, with potential for vaccination clinics throughout the fall.
8. Require face coverings (masks) in all indoor settings and on all school transportation for all students and staff, K-12, regardless of vaccination status.
a. This will include a mask requirement for all participants and spectators at indoor athletic and after-school activities.
b. Allowances will be made for medically-documented cases that require accommodations under Section 504 of the Americans with Disabilities Act.
c. Masks may be removed when actively eating or drinking (if eating indoors, individuals are required to put their masks back on when not actually eating or drinking).
d. Staff may remove masks when alone in a classroom, office, or other space within the school.
e. Masks will not be required in outdoor settings.
As COVID-19 data is updated, this plan will be reviewed, and the Superintendent may ask the School Committee to reconsider any portion of the plan on an ongoing basis, with the first review occurring no later than October 14, 2021. As part of that review, the School Committee has asked the High School administration to seek input from the YHS Student Senate to propose an adjustment to this plan that may incentivize vaccinations and participation in pooled testing as one way to move toward a less restrictive mask mandate for students in grades 9-12.
Frequently Asked Questions
While this plan provides us with a broad overview of strategies to employ, operationalizing the plan within each school and classroom requires greater planning. As that planning occurs, frequently asked questions have cropped up that require a response. The District Leadership Team has begun keeping track of those FAQs and will update responses as the year unfolds.
Are there new travel guidelines?
There are no restrictions for travelers returning to Maine from other states, but there are guidelines for international travel, including:
For fully vaccinated travelers to Maine:
Vaccinated international travelers do not need to quarantine on their arrival to Maine unless they are symptomatic.

Vaccinated international travelers who are asymptomatic do not need to be tested.
For travelers to Maine who are not fully vaccinated:
Unvaccinated international travelers should quarantine for 7 days since their arrival into the U.S.

Unvaccinated, asymptomatic international travelers should be tested if their arrival in Maine is within 3-5 days of their arrival into the U.S. (Find a Maine testing site here.)
You may read more on the State of Maine's COVID-19 FAQ web page.
What steps will be taken to keep kids safe on buses?
1. Masks will be worn at all times on buses.
2. Assigned seating will be implemented on buses for all morning and afternoon runs.
3. Hand sanitizer will be provided, and students will apply as they enter the bus.
4. Windows will be open as weather allows.
NOTE: YHS students will be dropped off before HMS in the morning, to allow for supervision at HMS.
What will snack time and lunch time look like?
1. Masks must be worn at all times except when a student is seated and eating.
2. Students will be directed to maintain 3' of distance as much as possible, and put masks back on when not actively eating.
3. Staff may eat lunch together, but should maintain as much distance from one another as possible, and at least 6' is suggested.
4. When possible, outside snacking and eating is encouraged.
5. Breakfast will take place in classrooms at the K-4 level.
6. Food at staff gatherings should be avoided unless the meeting is held outside.
What about visitors and volunteers?
1. We will continue our policy of restricting visits to essential activities only.
2. Volunteers will also be limited to essential activities as requested by the school principal.
3. Volunteers must be vaccinated.
Will we be holding Open Houses and Parent-Teacher Conferences in person?
1. Drop-ins are still happening (prior to Sept. 1) but parents/students are to be in the room for no more than 5 minutes, or small group meetings may be held outside (ie: visits for new students).
2. Open House events, IEP meetings, Parent/Teacher Conferences, etc. will be held remotely.
What's happening with Quarantines?
The Maine Department of Education has provided three ways for individuals who have been close contacts of positive COVID-19 patients to avoid quarantine:
1. Vaccinated individuals will not quarantine, but will be required to submit a negative COVID-19 test several days after last contact
2. Individuals participating in Pooled Testing - Any positive test in classroom will require all individuals in class to take a rapid test. Asymptomatic individuals with negative tests will not need to quarantine.
3. Because we have implemented a mask mandate, any masked students will not need to quarantine if they were exposed in a classroom – unless they have been within 3' of a positive case when not wearing a mask. CDC/DHHS will not allow us to make this exception in other settings (cafeteria, extra-curricular activities, etc.). Even masked students may have to quarantine if exposed during those activities.
What is "Pooled Testing?"
Maine has contracted with a provider to allow each school district to test each classroom each week, with students and staff participating on a volunteer basis. Essentially, this is how it works:
1. Students arrive at school and go to their classroom, homeroom, advisory, or other regularly-designated area (determined by each school).
2. Each participating student uses a swab to collect a specimen from the front of their nasal cavity (nostril).
3. All swabs are collected in one vial, which is labeled and delivered to the main office.
4. Each vial is tested for COVID-19. If a vial contains a positive case, every student and staff member in the classroom will receive an individual test.
5. Any individual with a positive individual result will be sent home to quarantine, and we will conduct contact tracing to determine if anyone else needs to quarantine (keep in mind there are three ways to avoid being quarantined, as mentioned above).
For more information about the Pooled Testing program, please click here.
What instruction will be provided for students in quarantine?
Teachers will provide asynchronous learning opportunities at a minimum. Some ­may­ opt to provide synchronous opportunities, but that will not be the expectation.
Will students be taking their technology devices home?
1. Yes – in grades 7-12.
2. No – in grades K-6, until we have a need for a possible remote learning day (after 2 traditional snow days).
Will we be holding in-person staff meetings?
1. Within each building, yes, for the most part, with masks on and proper distancing (3' as possible).
2. We will avoid larger multi-school gatherings, such as the district-wide opening of school, at least through September.
What are the expectations for music classes?
MDOE has clarified that the expectations for music classrooms are the same as for all others, so students can participate in indoor music classes so long as they wear masks, maintain spacing to the greatest extent possible, and use instrument filters.
Will we be able to have younger students gather in designated classroom areas for reading time and other activities?
Children can sit on the carpet together in classrooms for short lessons throughout the day. 15 min limits of cumulative time have been removed. Students will remain masked and distanced from one another to the greatest extent possible, with assigned spots.
Are field trips going to be reinstated?
For the fall, we will allow our traditional field trips to outside locations. No field trips to indoor spaces will be allowed at the start of the year. Masks are required for all students and staff while on the bus.
Will staff have to report their vaccination status?
Yes, confidentially to Central Office. By Maine law, DHHS has the authority to require staff to report their status to the School Department, and the Superintendent is required to report non-identified data to the Maine Department of Education each month, indicating the percentage of vaccinated adults in our schools. For more information, click here.
Throughout 2020 and 2021, federal relief funds have been provided to the Yarmouth Schools in the amount of $3,176,191. The bulk of those funds were spent hiring additional staff to assist with remote learning, physical distancing, cleaning of facilities, and student health support. Monies were also expended to upgrade ventilation systems in each school, rent tents to provide for outdoor classrooms, and purchase technology hardware, software, and licenses to assist in student learning. A summary of expenditures is provided here.
UPDATES and NOTICES of POSITIVE CASES or QUARANTINES