Curriculum Review Process
The Yarmouth School Department has established a curriculum review cycle that fosters continuous improvement of teaching and learning. Through this four-phase process, the Director of Teaching & Learning works with building administrators and teacher leaders to facilitate the ongoing curriculum and instructional modifications that are necessary to ensure continual improvement. Additionally, on a regular cycle, a team of PreK-12 teachers will evaluate and revise the curriculum to eliminate inconsistencies and overlap and ensure that instruction is aligned to standards and is both rigorous and relevant. Such curriculum development is well-planned, yet is flexible to provide for a response to state directives, stakeholder concerns, and analysis of testing data. The process and product enable us to make student expectations public and easily understood.
The Yarmouth School Department's curriculum seeks to identify and organize what will be taught, how student learning will be assessed, and how students will be taught. These elements are connected to professional development for teachers, the allocation of fiscal resources, and the assessment structure for the school.
The facilitator for the district-level curriculum revision work may be an administrator, teacher leader, or consultant. In this role, the facilitator initiates the process, researches current trends in the curriculum area, works with sales representatives to obtain samples of curriculum materials, engages staff in the process, and communicates the progress of this work to stakeholders. At the start of the curriculum revision process, the facilitator will invite teachers to serve on a curriculum team. A smaller group (2-4), which may consist of a learning area leader, an instructional coach (if applicable), and an outside consultant (if appropriate), may be set up to help lead the work. Administrators are encouraged to join this group for curriculum areas in which they have expertise.
The larger curriculum team should consist of grade-level representation from grades or grade spans (i.e. PreK-1, 2-5, 6-8), the learning area leaders from the high school and middle school, and other representatives from that department. Special educators and instructional support staff are also encouraged to participate. The size of unified arts teams will be smaller.
The process, led by the Director of Teaching & Learning in collaboration with school Principals, Assistant Principals, the Director of Instructional Support, and Learning Area Strategists, has four phases:
Phase 1: Evaluate (One year)
This includes a review of state and national standards, as well as a review of current research and trends in curriculum, instruction and assessment. In this phase, district staff members determine if there are gaps or overlaps in the PreK-12 curriculum that negatively impact student experiences or their abilities to attain state and national standards.
Tasks include:
Analyze the results of student assessments, surveys, and other data as available

Review graduation requirements

Research current trends, issues, and best practices that relate to the subject area

Compare and, if necessary, revise existing subject area standards/benchmarks to the most current state and national standards

Analyze current scope and sequence, identifying gaps, overlaps and areas for improvement

Begin to develop, review, or revise essential learning objectives for every grade level and/or course
Other tasks may include:
Develop a database of current instructional materials

Conduct visits to other school districts to observe exemplary programs
Afternoon meetings in the spring and summer days may be scheduled to assess the current program, discuss philosophical foundations, agree on standards and study current curriculum practices. The smaller curriculum leadership team may meet prior to each scheduled session to formulate the agenda. Additionally, this team may work on documents produced by the larger group between sessions so as to move the group forward.
Phase 2: Plan & Design (Two years)
District staff develops a recommended PreK-12 curriculum framework for the learning area. Staff members identify conceptual understandings, select instructional materials and adopt formative and summative assessments.
Tasks include:
Develop, review, or revise essential learning objectives for every grade level and/or course
Based on results of the Evaluation phase, revise the K-12 curriculum framework using a district-established format

Evaluate instructional materials through a diversity, equity, and inclusion lens and recommend materials

Identify needs of teachers to implement the curriculum

Prepare instructional staff for Phase 3 by sharing revised PreK-12 curriculum framework
The curriculum team will meet during release time or after school to identify outcomes, common assessments, and instructional practices that will comprise the curriculum. Additionally, instructional resources may be identified. A grade level representative may be required to participate in these meetings if their grade level is not represented on the team. During year two when the curriculum document is sufficiently detailed, the facilitator will ensure the curriculum is presented at learning area meetings and at other meetings of stakeholders for input. The facilitator will also work with each principal to plan a roll-out for their school.
Phase 3: Pilot & Refine (One year)
In this phase, PreK-12 instructors implement the recommended curriculum and reflect on the effectiveness of individual lessons, materials, and assessments, as well as review the logic of the PreK-12 curriculum framework and the alignment with state and national standards.
Tasks include:
Review and finalize PreK-12 curriculum framework

Review and finalize instructional materials

Adopt assessments

Complete the Yarmouth Curriculum Template
Tasks may include:
Advocate for professional development support

Present final report to School Committee
The curriculum team may meet during release time or after school to discuss issues regarding piloting new instructional materials, to refine the curriculum document, and to analyze student work and assessments. During this time the principals will monitor the piloting of the curriculum through various means including class visits, evaluations, and grade level and learning area meetings.
Phase 4: Implement (Four years)
Following four years of review, the curriculum should be implemented with continual refinement by individual teachers in a manner that does not create gaps or overlaps, but continually improves the student experience and performance. During this phase, the Curriculum Review Team does not meet as an official body unless the district leadership determines that a return to one of the three previous phases is necessary. This review may be done at the district level or at the building level, as necessary. This may occur due to changes in state or national standards, recognition of omissions in previous work, outdated materials, or other unforeseen events.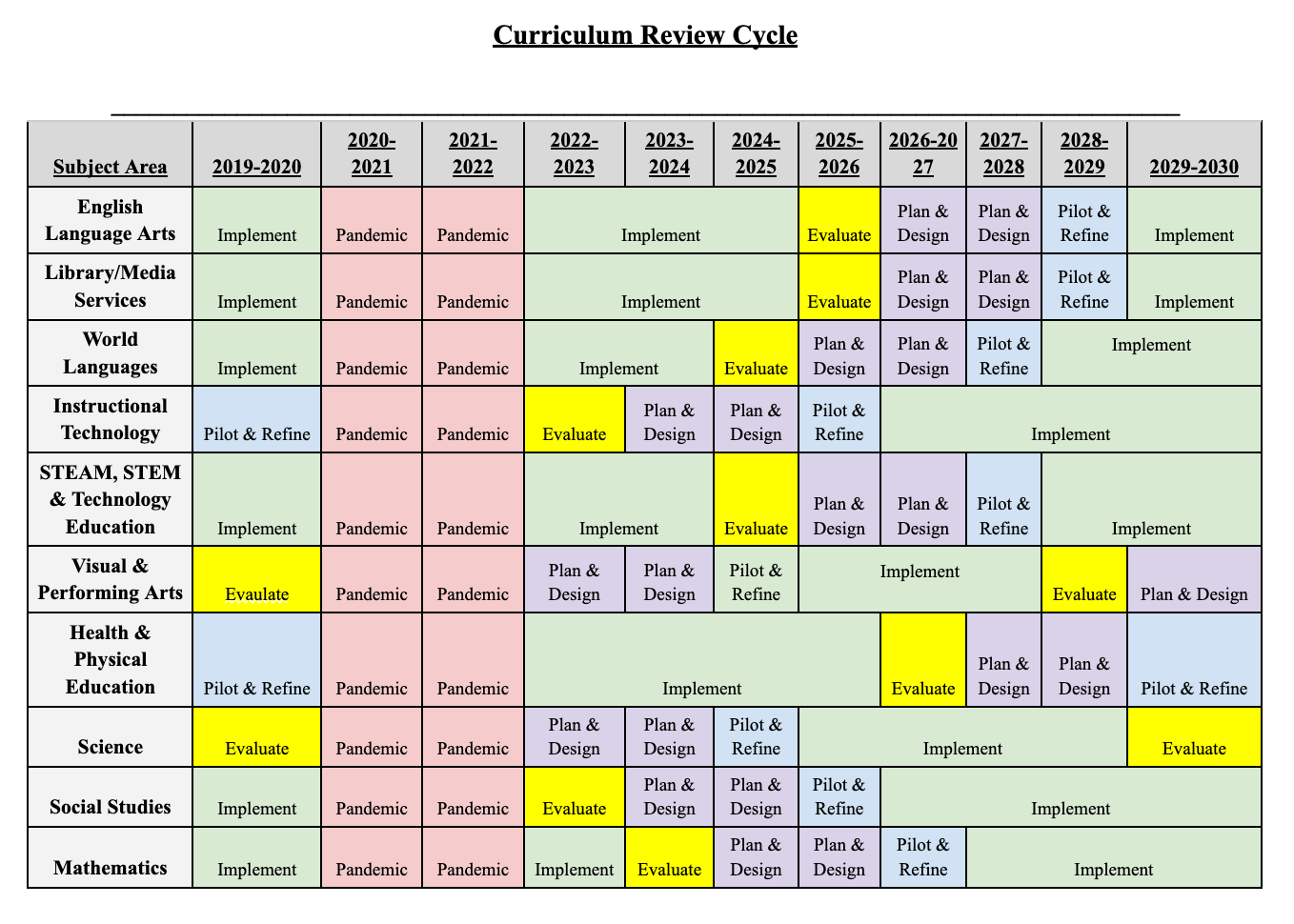 The budget for curriculum development will include stipends for the summer work as well as substitutes for the work to be done during the school year. Additional professional development funds may be required for training in the standards, assessments, or methods for the particular subject area or for securing a consultant or facilitator. Funding for new instructional materials should be considered as well.