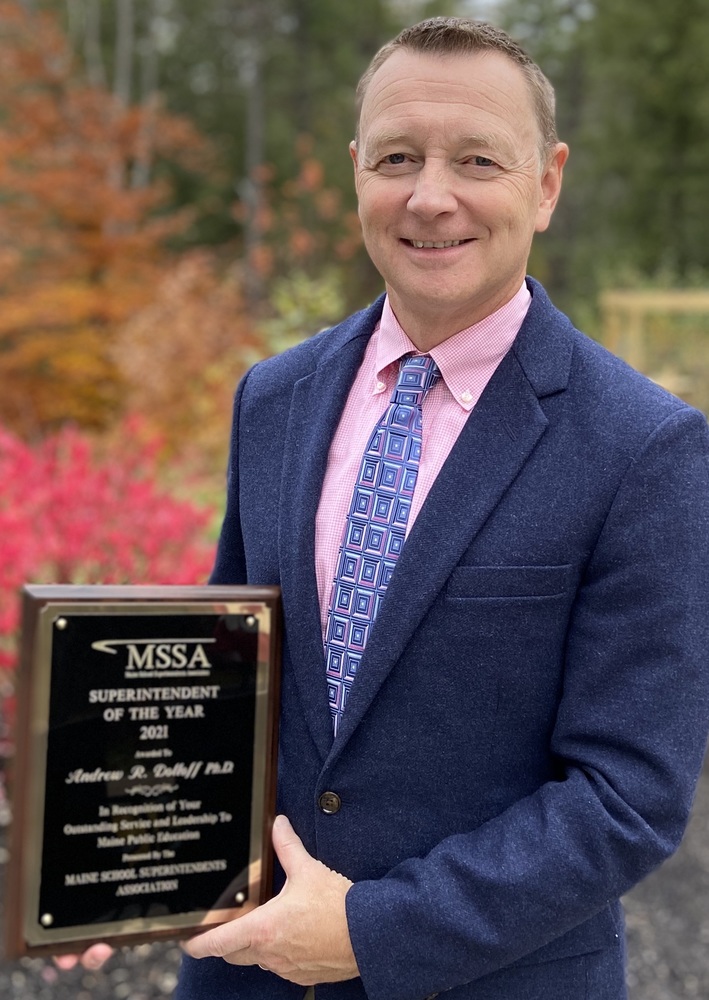 Dr. Dolloff named Maine's Superintendent of the Year
Yarmouth Schools
Thursday, November 12, 2020
We are pleased and proud to announce that Dr. Andrew Dolloff has been named Maine Superintendent of the Year by the Maine State Superintendents Association. A committee of peers from across the state selected Dr. Dolloff for this honor. It is an impressive recognition in any given year, but to be honored by Maine educators during this challenging time is extraordinary.
A few excerpts from his nomination are included below:
Dr. Andrew Dolloff is an exceptional superintendent. He shines during normal times, and when a crisis hit this spring, he rose to the challenge. He is leading his district through Covid-19 with strength, courage, and exceptional communication skills.
Dr. Dolloff, like all educators, has an incredible amount on his plate right now. Besides Covid-19, Dr. Dolloff is also managing a massive construction project (major renovations at every school in the district). He is working through budget challenges, and the district has a growing student population. Other educators across our state look up to him and count on him for advice and guidance.
Dr. Dolloff is always prepared, organized, and one step ahead of any challenge. He is an outstanding communicator and a wonderful advocate for his school community.
Upon receiving the honor, Dr. Dolloff was quick to credit the exceptional team of employees at the Yarmouth School Department. He also thanked the Yarmouth community for their tremendous support during these challenging times.
The Yarmouth School Department is fortunate to be filled with outstanding educators, and we're thrilled Dr. Dolloff was recognized as Maine Superintendent of the Year.